Deze blog wordt u aangeboden door NetSuite's William Schonbrun, GM van Billing, in samenwerking met Solmate Group.
In deze moderne tijd van automatisering dient er compleet, snel en foutloos gefactureerd te worden. Dat de praktijk anders blijkt te zijn merken wij bij onze klanten. Facturering vereist nog vaak handmatig ingrijpen waardoor flexibiliteit ver te zoeken is. Het moderne verkoopproces wijzigt van individuele transacties naar abonnementen. Ook het proces van revenue recognition, ofwel de toerekening en verantwoording van opbrengsten, moet volledig, helder en juist zijn en daarnaast al inzicht geven voordat de factuur wordt verstuurd.
Onderstaand blog gaat verder in op standalone Billing software, zoals wij dit vaak tegen komen, versus het hybride model dat beter voldoet aan eerder genoemde nieuwe standaarden.
---
The era of one time, transactional, purchases of products and services is coming to a close. Replacing it is a hyper competitive, customer driven world where products and services are bundled together and paid for continually, provided value continues to be delivered and a competitor hasn't emerged with a better option at a better price.
The rapid rise of these new business models is also accelerating the rise of subscription management, billing and invoicing solutions that are up to the task. Companies that are adapting their business models to this new reality are increasingly embracing the cloud economy—one in which agility, global reach, 'as a service,' real-time and anywhere, anytime availability are a must.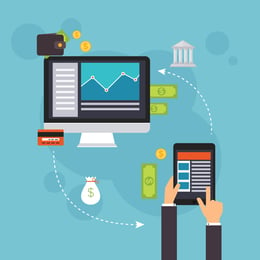 In order to effectively move from a singular billing method to a hybrid model which bills for transactions, subscriptions and usage simultaneously, a billing system must have real-time visibility into the business transactions that generate the invoices, and ensure accurate and compliant revenue recognition – sometimes even before the invoice has been generated.
Standalone billing systems inherently can't handle this change – they're simply too far from the action. They're too far from where the customer is acquired, contract terms established, products and services selected and delivered. In fact, the increase in M&A and investment activity in this space over the last several years indicates that these point billing solutions will soon be extinct.
Standalone billing systems are quickly giving way to business systems with billing at the core. Here's why:
1. Support for Hybrid Business Models with Complex Billing Requirements
Point billing systems only focus on one part of the billing picture: subscriptions, project management, one time purchases or expense management. But today, customers often buy all of the above—all at the same time and in the same order—from more vendors. So, it's not just about subscriptions anymore. It's about subscriptions, usage, and transactions. Point billing system software that focuses on subscriptions and subscription management leaves companies totally exposed when managing other billing models in the 'everything economy.'
2. Revenue Recognition
Getting out of sync with revenue recognition is a bad idea, and point billing systems are simply unable to keep up with evolving revenue recognition standards. They lack the data necessary to establish the correct revenue recognition at order time and to keep it up to date as elements change over time. In terms of establishing the correct revenue recognition with a point billing system, customers have two choices:
1) They can purchase another point revenue recognition system, which is costly or;
2) They can establish manual processes to continually audit subscriptions and orders and to keep everything in sync, which is inefficient and risky.
3. 360-Degree View of All Customer Billing
Since point billing systems can only handle part of the billing/business model, customer relationship data also becomes fragmented. You're either adding a data warehouse to pull the data together, or perhaps just dumping data from multiple systems into Excel and joining them together, which is equally as inefficient, wasting of valuable time and resources.
4. Synchronized Data
Whether synchronizing account data, subscription/order data, or invoice/payment data, the bottom line is that moving any kind of data between disparate systems is tricky and dangerous. Point billing solutions rely on data being sync'd back and forth to operate. Even if the billing systems and core applications are written in the same language, they can—and do—get out of sync if they aren't part of the same suite.
5. Total Cost of Ownership
Implementing multiple systems/platforms is expensive. Working with one vendor across all needs will yield better value than negotiating new relationships with point solution vendors, especially in areas where there is overlap.
For years, 'billing' (especially recurring/subscription billing) was considered a specialty area and application. Now that hybrid billing is mainstream and there are solutions with hybrid billing and business models built into their core, there's simply no reason to ever look at a point billing solution again.
---
Disrupt, Collapse, Transform; The Role of Cloud Computing in Industry Transformation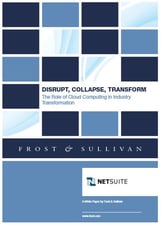 Initieel werd Cloud software vooral toegepast om de kapitaal- en operationale kosten laag te houden. Nu de markt steeds sneller veranderd en de ondernemers snel moeten kunnen inspelen op verandering, worden vooral flexibiliteit, schaalbaarheid en aanpasbaarheid van Cloud software als redenen genoemd om voor dit soort software te kiezen.

Frost & Sullivan hebben omtrent dit onderwerp wereldwijd meer dan 1500 senior executives (CEO's, CFO's, CIO's en andere senior managers) uit diverse sectoren geïnterviewd en conclusies verwerkt in de whitepapier genaamd: "Disrupt, collapse, transform; The Role of Cloud Computing in Industry Transformation."
---
NetSuite

NetSuite Enterprise Resource Planning (ERP) offers a modern, scalable solution to run all of your key back-office operations and financial business processes in the cloud. From comprehensive financial management capabilities, including sophisticated revenue management and billing solutions, to inventory, supply chain and warehouse management solutions, NetSuite empowers businesses of all sizes, across all industries, in every part of the world to unleash innovation and growth. Built-in business intelligence with real-time reporting and analytics equips your organization with a single version of the truth and ignites better, faster decision making.
http://www.netsuite.com